If you do a quick Google or LinkedIn search, you will find many Data Scientist job opportunities. At the time of writing this article, there were 54,000 Data Engineer jobs in Canada and 561,000 in United States alone on LinkedIn. In Canada, The Greater Toronto Area accounted for a large portion of those jobs; Vancouver and Montreal held the 2nd and 3rd positions.
In the United States, the top one demand comes from California, and Virginia and Texas follows.
As enterprises pay more and more attention to data, the market demand for data engineering continues to rise. Whether a company needs data analytics or data science, it must need data engineering. Therefore, in recent years, the market demand for data engineering is very high. The data show that the current market, Demand for Data Engineers has outstripped supply since around 2016.The last few years have consequently seen a chronic shortage of data engineering talent. Many say that the Data Engineer shortage is even worse than the shortage of Data Scientists.
The demand for Data Engineers is the growth in big data engineering services provided by consulting firms like Accenture and other tech companies like Cognizant. The global big data and data engineering services market is certainly experiencing high demand. Growth estimates from 2017-2025 range from 18% to a whopping 31% p.a.
In the mean time, the salary of the Data Engineer is increasing faster than other similar positions. The follow charts are the salary distribution of the Junior and Senior Data Engineer in Canada.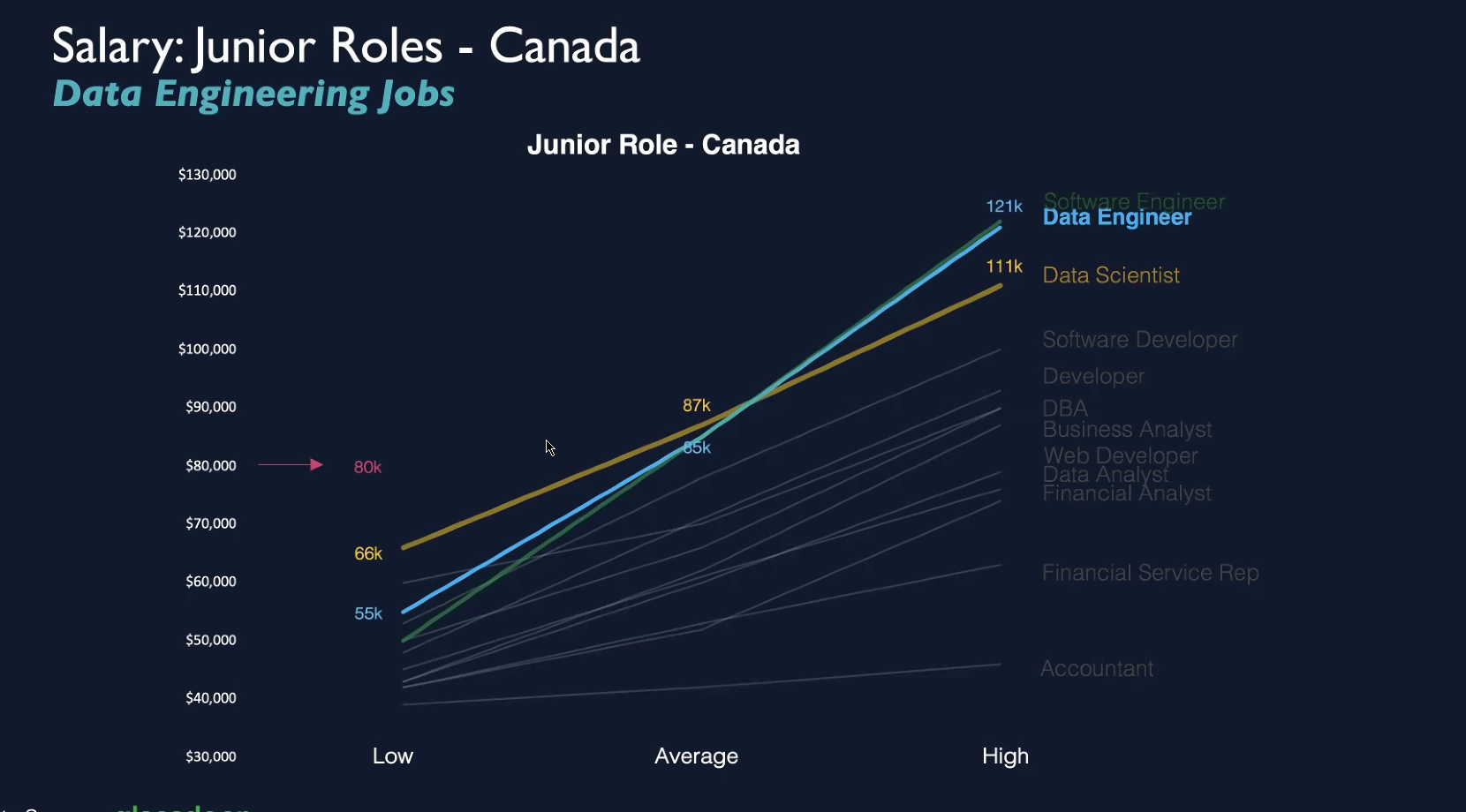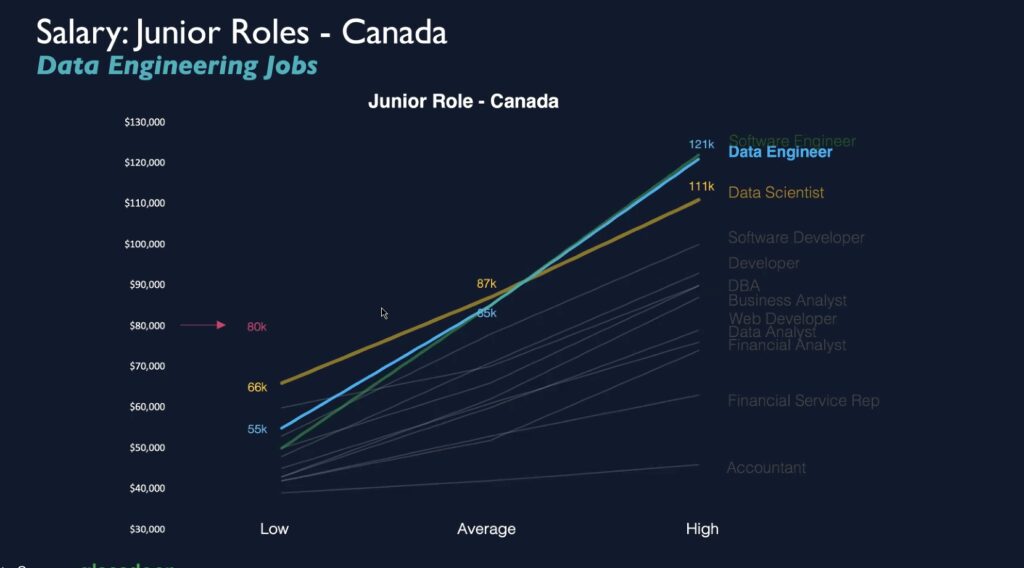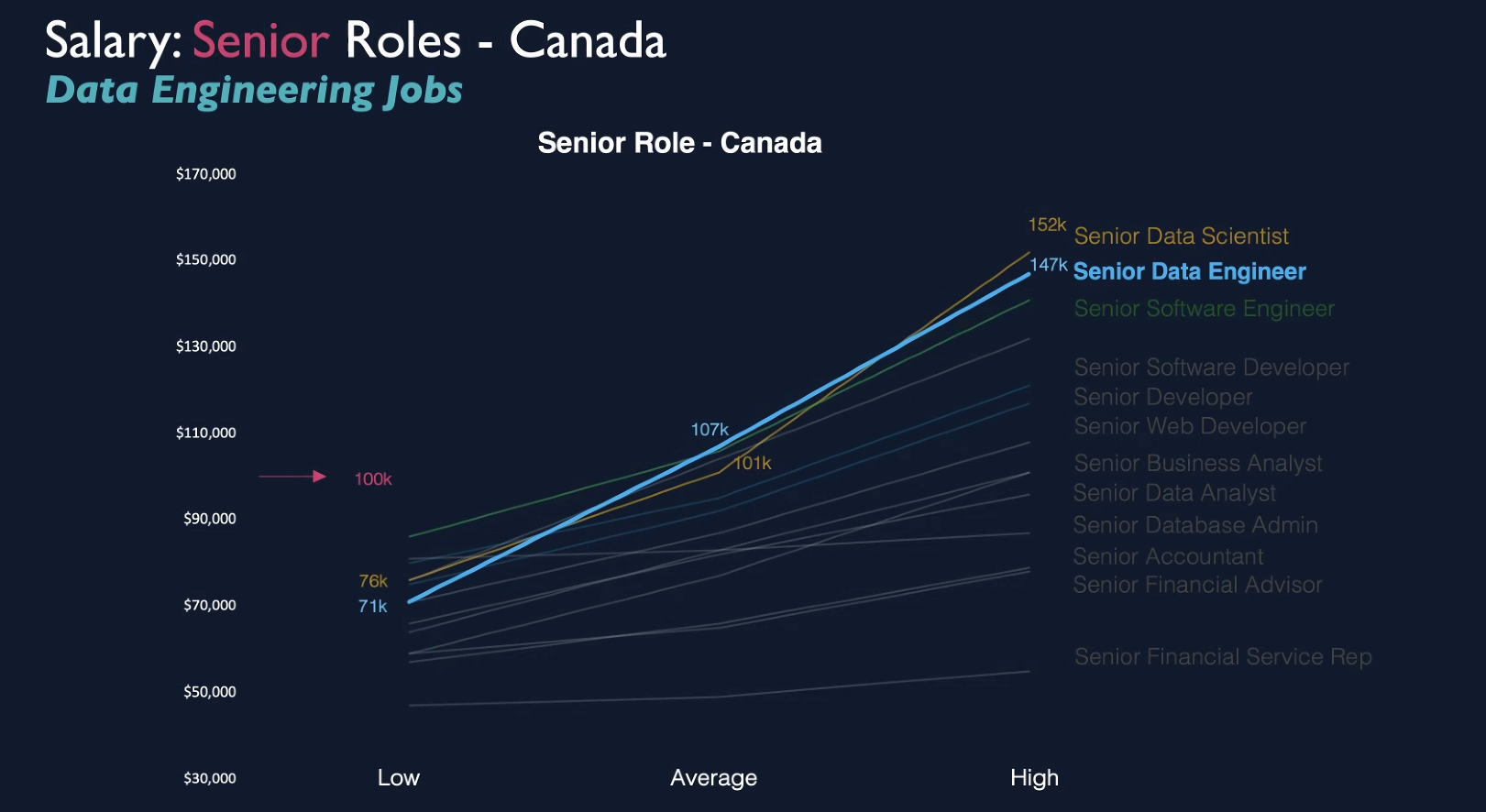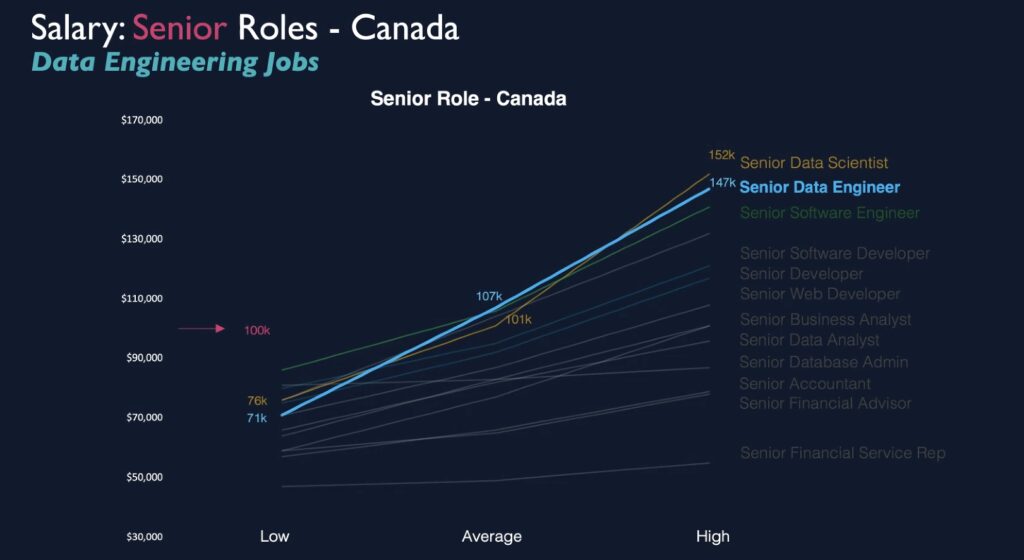 This chart is the data of 2 years ago, current salary is around 20% above this data.
In the end, by our estimation, the shortage of candidates and tech talent, along with a high projected growth rate in Data Engineering jobs and really high salaries will continue to fuel a Data Engineer shortage.
The average base salary of a intermediate level Data Engineer in Toronto is $91,497, according to Glassdoor's 2022 market data. Here is a breakdown of the Data Engineer salaries by level:
| | |
| --- | --- |
| Level | Average Base Salary (CAD) |
| Junior | $81,913 |
| Intermediate | $91,497 |
| Senior | $121,241 |
| Lead | $125,567 |
Data engineers' average salary in each level (2022)
If you want to know more about the data engineer job market, please watch our video clip about data engineer job market.